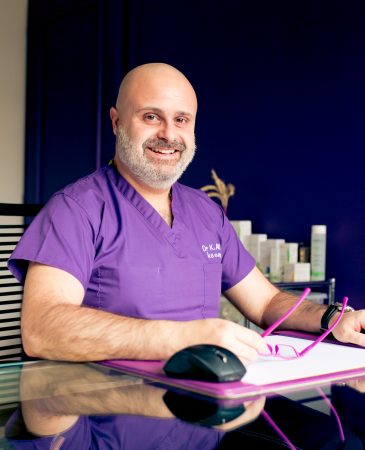 FMH Specialist in Plastic, Reconstructive and Aesthetic Surgery, Owner and Medical Director of KA Surgery
Doctor Kouroche Amini is a well-known and respected Swiss plastic surgeon.
He was born and raised in Geneva, Switzerland.
He has always been moved by the desire to be a plastic surgeon and help others.
He studied in Geneva medical school and graduated with honours in September 1999.
His surgical training started immediately with two years of general surgery in Neuchatel, Switzerland.
He then did his residency in orthopaedics and surgical emergencies in Nyon, Switzerland for two years.
During his four years in Neuchatel and Nyon, he was the surgeon in charge of wounds and cicatrisation of the Hospitals.
was Afterwards, he integrated the maxillofacial surgery team at Geneva University Hospital for one year, before being nominated Chief Resident.
For 6 months he worked as one of the Chief Residents in the hand and wrist department, then as Chief Resident in charge of the surgical emergency room in Geneva University Hospital (HUG).
In May 2017, I decided to have my eyelids operated after I had an exam with my ophthalmologist. I decided to see Dr. Kouroche Amini for the surgery. After he carefully explained all the steps of the treatment and I was reassured. Dr. Amini also took care of all the insurance details. Surgery took place in Clinic in June and all went very well. My sight is now much better and I'm super happy with the result. I thank Dr. Amini for his availability, kindness and his professionalism.
Dr. Amini is an exceptional doctor, professionalism, availability and kindness. Following a cancer requiring a removal of the breast, Dr. Amini has proceeded to its reconstruction and the result is bluffing, I saw thanks again! The team of the clinic is in his image, a HUGE thank you to all, I think of you every day, you m rebuilt!
Dr. Amini is very professional, his work is very well done, he accompanies his / her patient to the end and never lets us down. I highly recommend it.